We don't usually associate the midlands of Ireland with mountains but, linking counties Offaly and Laois, the Slieve Bloom Mountains offer some challenging and really enjoyable cycling opportunities. A part of Ireland's Hidden Heartlands, you'll find natural and historic beauty galore in this lesser explored area of our country. The triangular 50km route we took this time had breathtaking views and very good surfaces most of the way. The mountain roads on the first two legs of our journey had almost no traffic and drivers who did pass us on the final leg between Clonaslee and Kinnitty did so with great courtesy.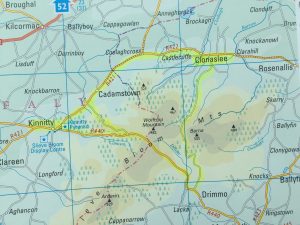 We parked our van in the peaceful village of Kinnitty and set off towards Clonaslee on the R421. Very shortly out of the village, take a right turn towards Mountrath on the R440. This road takes you on a fine long leafy climb, through forest at first and then opening out to wild mountain terrain. While there is a lot of commercial forestry in the area, spoiling the natural views in places, Coillte has done its best to compensate by developing lovely walks and trails. Draw breath when you reach the top and enjoy views of the midlands that just seem to stretch forever in all directions.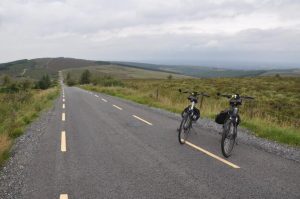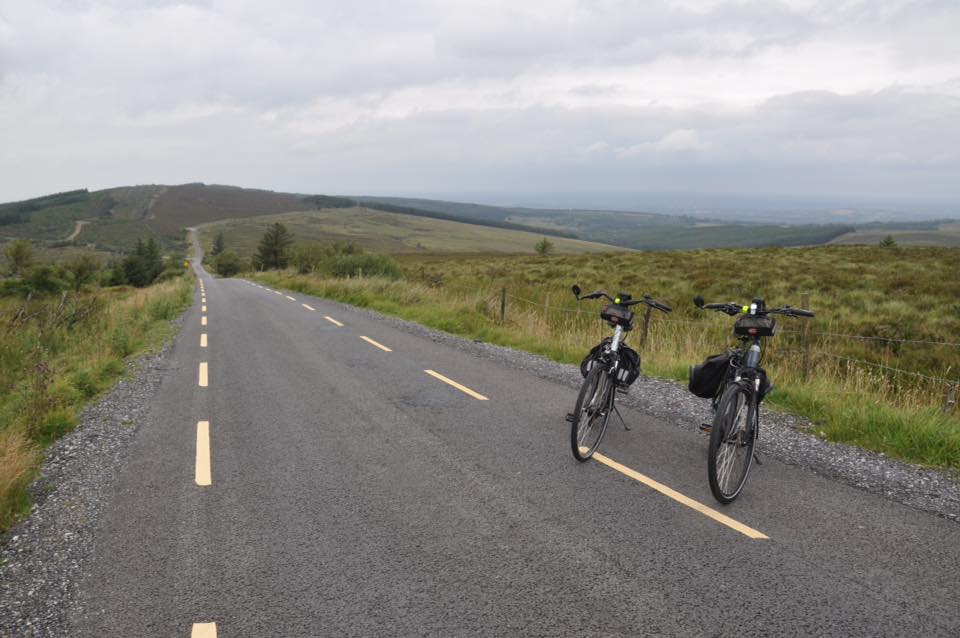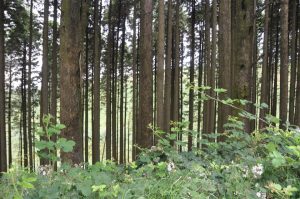 Having enjoyed your first fine descent, turn left before you get to Mountrath onto the road for Clonaslee and 'The Cut' – a hand hewn section cut through rock at the very top of this mountain pass, at an elevation of 430 metres.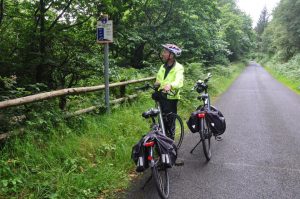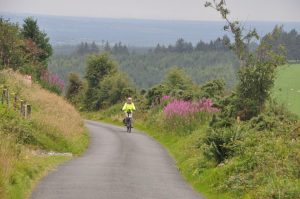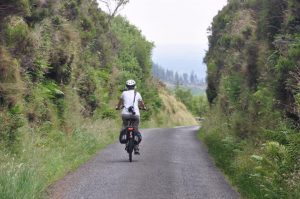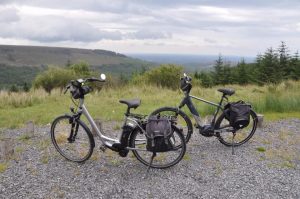 Our Kriedler and Kalkhoff electric bikes took us gamely up and up and up. Having come through the Cut, the picnic tables with panoramic northward views were a welcome sight! You need to be self-sufficient up here, as it's wild and wonderfully unspoiled. The descent into Clonaslee seems to go on forever – not too steep for the most part, so you can relax and just enjoy freewheeling. The final leg from Clonaslee to Kinnitty is almost completely flat. It's a good road – quiet enough for our trip, but that was late on Saturday afternoon of a long weekend. Kinnity Castle as you approach the village has a relaxed charm and would provided you with sustenance, through the summer months anyhow, should you need it.
Thank you, Slieve Blooms, we will certainly be back!