A very scenic part of Cork's historic Butter Road, between Millstreet and Rylane, was the target for our first real cycling adventure of 2020. Getting butter by road to the Butter Exchange in Cork City, for export to the West Indies and South America, was important business in the 18th and early 19th centuries. This route originally linked Killarney to that Shandon Street market, serving all the towns and villages along the way.
We parked in Millstreet and took the L1123 towards Rylane. A steep rise from the very beginning, you can see how the large flat rock called the Kerryman's Table, about 6km up the mountain, would have been a very welcome resting place for people long ago, travelling by horse and cart with their precious produce.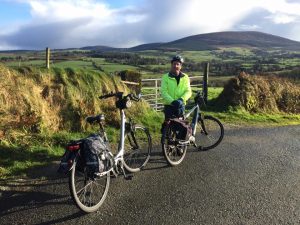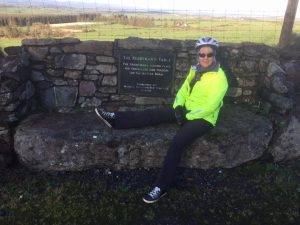 At that same junction at Aubane, you might choose to divert to see St. John's Well or the Millstreet Country Park, but we didn't have time for that on this occasion. Having caught our breath we continued up that reasonably quiet road, stopping occasionally to admire the breathtaking valley to our left. Any cars that passed gave us a respectfully wide berth, as we usually find is the case.
The top of the hill, part of the Boggeragh Mountain range, rewarded us with a view looking all the way over towards Blarney. The chilly day meant clear visibility – another good reason for wrapping up and getting out there in January!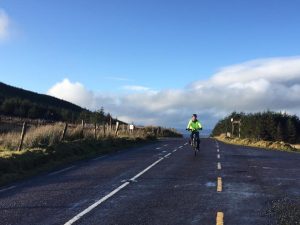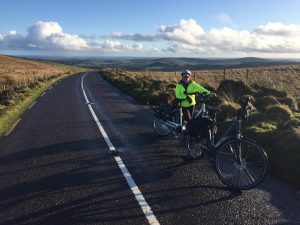 At this junction we were looking for a place for a picnic (you won't find any coffee shops up here!!), so we ventured down a little track. What a surprise to be rewarded by a fascinating piece of history dating back to 976. Mahon's Rock there commemorates the killing of Brian Boru's brother, influencing the course of history as explained in the commemorative sign. We did not have our good cameras, only our phones, so I hope the quality is good enough for you to read.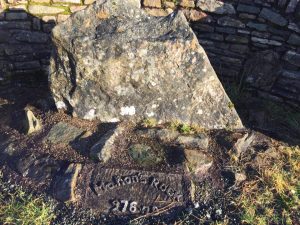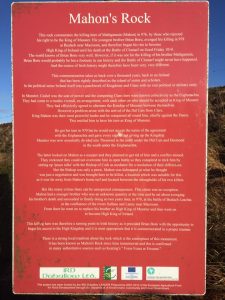 Since the day was quite cold, and we had a bit of a late start, we decided to turn back at this point. We certainly will do this route again – probably starting in Rylane next time and aiming for sustenance in Millstreet before heading back. I think you could probably spend a month cycling around this region. It has a strong feeling of community, history and true Irish welcome that will draw us back again and again. We mistakenly left a pannier full of cycling gear behind us but, aided by advice from friendly locals in McCarthy's Bar, and the assistance of the local website Millstreet.ie, our pannier was found almost before we even got home! A big thank you to all in wonderful Millstreet.