We started our journey at Fossa, just outside Killarney on the N72. A roadside cycle path takes you to the Gap Road, a left turn just beyond Fossa. The Gap of Dunloe is well signed and the gentle slope up to Kate Kearney's Cottage allows you to warm up those legs in preparation for the steeper parts to come.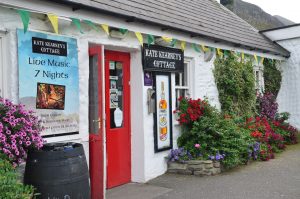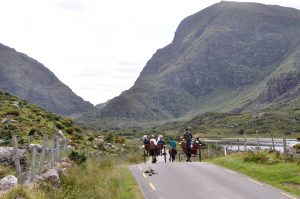 The next kilometer often has a lot of pedestrians, but beyond that you will only meet the occasional pedestrian, some jaunting cars, a few other cyclists and even fewer cars. The scenery as you ascend is breathtaking – the Gap seems to loom darkly in the distance for a while, but the lovely lakes keep luring you around each corner until it opens up. There are some steep parts, then a little respite before the final steep and winding pull to the top. Our Kreidler and Kalkhoff electric bikes don't bat an eyelid (we have been up and over many times), but you will still be ready to stop and breathe when you reach the top. From Fossa to here was 13km. The view back down the valley offers the perfect excuse to sit on one of the many flat rocks and contemplate the wonders of our lovely country. Be it bright and sunny, or dark and moody, it's equally beautiful.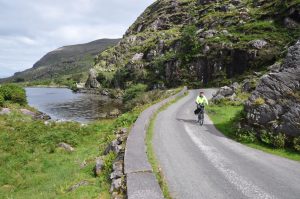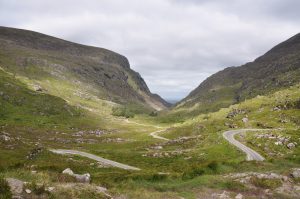 As you continue over the top, the amazing Black Valley is displayed in all its glory beneath you. Admiring it as you descend means that you go nice and slowly down, not in any hurry to give it up. A safe way to descend.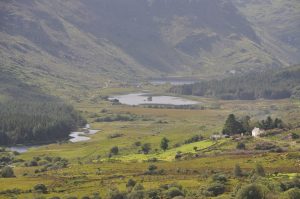 We then followed the signs for Lord Brandon's Cottage, which takes you over to the Upper Lake. You can get sustenance there during the extended tourist season, and if you're there in the real off-season, you can sit and enjoy your own picnic. You have a decision to make here – if you're a confident cyclist, with a good bike and tyres that can take a bit of ruggedness, you can take the route outlined here. It's more of a track than a path and has some steep parts with rugged stones. going back up and over the Gap is a lovely alternative too, and you will see completely different views on the way back.
On this occasion, with our backs to Lord Brandon's Cottage, we took the path that goes to the right. It continues along by the Upper Lake and at this time of year the heather complemented the furze in a blaze of colour. This led into a deciduous wood and it is really here that you need to be very observant for stones and roots on the track. We found that high power and low gear allowed us to keep control of the bikes on the steep stony bits. We walked the bikes down one particularly stony descent, not confident that we could keep control. Safety first of course!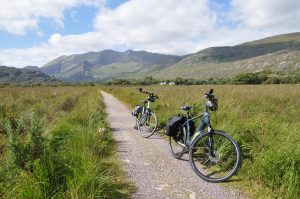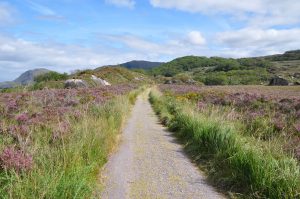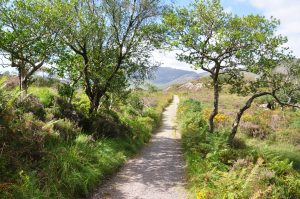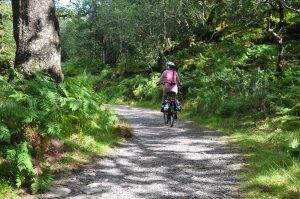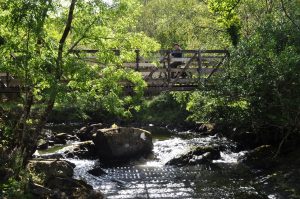 When you can tear yourself away, you come out onto the N71 – take a left towards Killarney. This road can be quite busy, with cars and also tour buses, so make sure you're good and visible. We pulled in every so often to allow traffic to pass us, and this was appreciated and acknowledged with a toot and a wave on a number of occasions. Once you get down as far as Torc Waterfall, you can enter the safe paths of Muckross and, apart from a very small section on the road as you enter Killarney town, you can be off road all the way back around to Fossa. A total journey of 42km, it felt like more than that because of the challenge of the Gap and also the stony track by the lake. It's a truly magical circuit and if undertaken with care and respect,one that will be thoroughly enjoyed.
See also our older entry of September 9th 2018 – Magnificent Cycling Opportunities in Killarney National Park.