Having previously been smitten by Ireland's Hidden Heartlands, we used Killaloe / Ballina, in Counties Clare and Tipperary respectively, as our base this time. Staying in Whitethorn Lodge, just minutes from the historic and beautiful towns, linked by a magnificent bridge, we were truly spoiled by our hostess, Anne O'Connor. A cycling enthusiast herself, Anne gave us a true midlands welcome and some great cycling and restaurant advice. The towns of Killaloe and Ballina themselves are beautifully kept, if somewhat choked with cars trying to cross the narrow bridge – not a problem for us of course!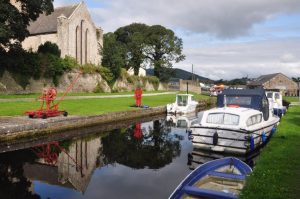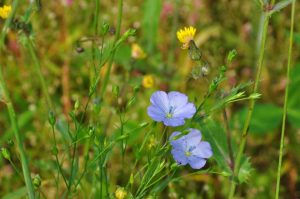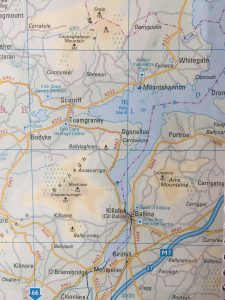 One might be forgiven for thinking that the terrain around Lough Derg might be fairly flat and, had we stayed by the lakeside roads all the time, it might well have been reasonably so. However, our Kreidler and Kalkhoff electric bikes just cry out for hills, and the ones we found close to Killaloe and Ballina certainly didn't take any prisoners! Our Saturday afternoon cycle (originally intended to be a quick, easy one) brought us up Grange Road out of Ballina in the direction of the Arra Mountains. Passing by the Graves of the Leinstermen and the Millenium Cross, we had magnificent views down over Lough Derg.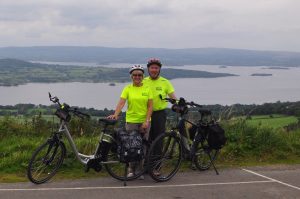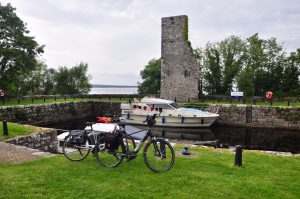 We then had a fine spin down the hill, crossing the road near Portroe and continuing to the lakeside Garrykennedy Harbour. A looped, lakeside route through working farm roads took us back to the main road. Signage is very poor, so our faithful Google Maps App was called upon at many little T-junctions and crossroads! We joined the R494 back to Ballina and our lodgings, fairly ready for a rest after a challenging 35km.
Sunday morning dawned with a hint of promise and, sure enough, a lovely warm day developed. This time we were bound for the western side of the lake and a slightly longer route. A beautiful lakeside R463 took us up to Tuamgraney, with motorists giving us a respectfully wide berth. Glimpses of lake on one side and shimmering fields of barley on the other made this a beautiful cycle. We then turned inland towards Bodyke on the R352, and onwards to Broadford on the R465, where an unassuming country store with quaint petrol pumps turned out to have a lovely little cafe. Thankfully, we had been alerted to look out for it by our hostess, Anne, or we certainly would have missed it.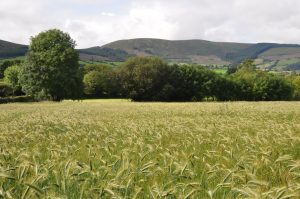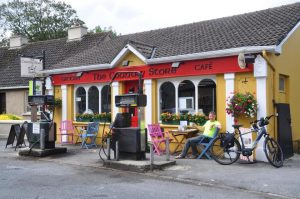 Seeking a mountain road, we turned up a little side road out of Broadford forwards Kilbane, where we took the Gap road for Killaloe, right over part of the Slieve Bernagh range. Well, what a climb and what a treat as we approached the top. Looking back north-westwards when we stopped to catch our breath, we could actually see as far as the hills of the Burren!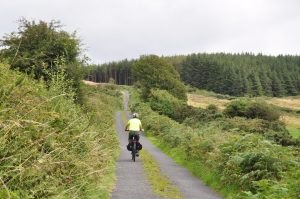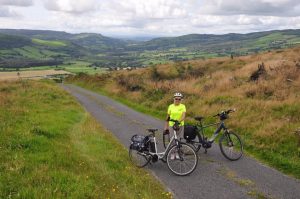 We have enjoyed many breathtaking views on our eBike travels, but this one really stunned us. It just can't be captured on film – and perhaps it was partly the joy of getting up that mountain that made it so special. Our downhill run back to Killaloe was welcome at that stage – a journey of 53km for the day. Our whole Lough Derg adventure is one we will think back on with great pleasure.