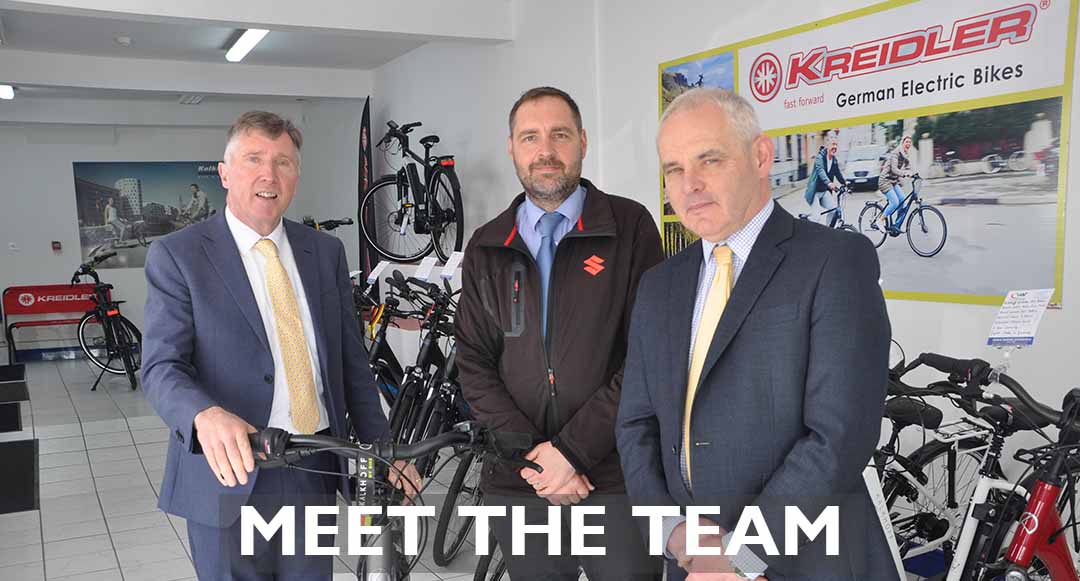 You WILL get exercise – you just decide how much! If commuting to work or shopping, you arrive fresh and refreshed, in your best clothes if you so choose. If using your electric bike for leisure, you will do journeys you never dreamed possible. Kreidler and Kalkhoff electric bikes will climb any hill without undue effort (even Cork's famous Patrick's Hill!). They qualify for the Bike to Work Scheme, saving you a substantial amount in tax. Worrying about headwinds or being tired on the way back will be a thing of the past. Regardless of your level of fitness, you can get out there and get cycling – exercise and adventure that gets you there and gets you fit, without the pain.
Range of fully serviced, pre-owned electric bikes from €950. Six months' warranty on all.
We have Ireland's largest display of Electric Bicycles. Read our testimonials below and see what our customers have to say.
Electric Bike Hire – €35 per day – helmet, panniers, lock and high vis included. This is also a great way to test an electric bike, and if you buy (new or pre-owned) you will get your bike hire money back!
Electric bike service €45 – add a full bike valet for an extra €15
Free Delivery Anywhere in Munster – Personalised delivery and instruction by CVW staff member
Want to choose your bike from the comfort of your own home? Too busy or can't get to our showrooms in Cork City, but you live within a reasonable distance? If you phone Patrick on 021 4304547, or email him on patrick@cityviewwheels.com, he will give you expert help in identifying the right electric bike for your cycling needs and your budget. Once a deposit of 200 euro is paid, Patrick will bring a selection of bikes to your home and you can make your choice in comfort.