There hasn't been much opportunity for blogging recently – it's hard to blog when you're cycling around and around within your 5km limit!! So, you can imagine the excitement of the first opportunity to challenge our legs and our bikes with some legendary West Cork coastal hills. A brisk easterly gale on the day added fuel to the fire and we, and our e-bikes, were in our element. Parking at the Celtic Ross Hotel in Rosscarbery, we cycled up to the village and did a loop around the lagoon before rejoining the N71 towards Clonakilty. A very short distance up that hill, you can turn off right towards Owenahincha and take the much quieter R598 down to that amazing beach.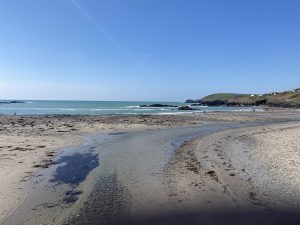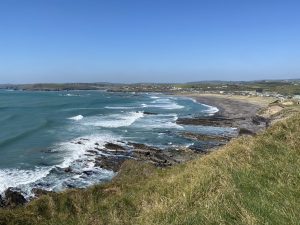 Staying on the R598, which goes to the right at the end of the beach, a steep climb brings you up to a glorious viewing point where you might be glad to take a little sight-seeing break. You then cycle past Long Strand and you might be tempted by the beautiful food and beach-side benches at The Fish Basket. It was a bit early for us, so on we went, Patrick throwing a mournful look over his shoulder! Hug the coast by turning right beyond the car park, keeping the sand dunes on your right all the way. Stay on this road until you come to a crossroads with a sign for Galley Head. Turn right and prepare for stunning views of Galley Head and its historic lighthouse.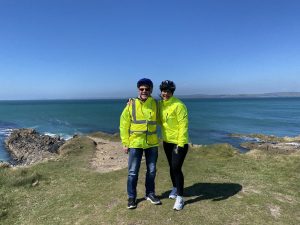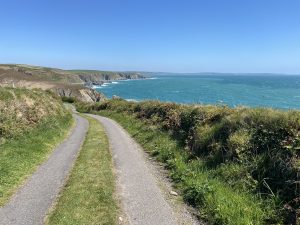 You must retrace your route back to the crossroads when you've had your fill of that beautiful peninsula, and stay straight ahead towards Ardfield. You'll come to a T junction, take a right and your next West Cork gem on this route is Red Strand.
As you head for Ardfield, we took a right for Dunnycove and, if you're not afraid of a steep hill to come back out of it, you'll certainly be rewarded for adventuring effort. Follow your instincts (another way of saying that the roads aren't numbered!) and you'll rejoin the Ardfield road further on. Turn right and off you go, keeping the sea on your right, until you pass Duneen Bay Beach and finally arrive at Dunmore House Hotel. In normal times, this is a magnificent stop, with fabulous food and a view across to Inchydoney Beach that has to be seen to be believed.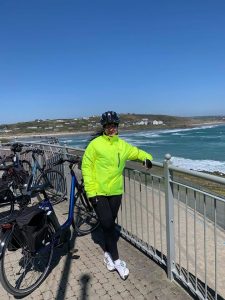 As it was closed due to current COVID restrictions, we had our picnic there, charmed by a young lad who came out and, instead of castigating us for using their outdoor chairs, apologised for not being able to serve us coffee! Resolving to give them business when they re-open, we then turned our tails to the easterly gale and cycled back past Ardfield and Red Strand, but staying straight on for Rathbarry and Castlefreake rather than coming back by Galley and Long Strand. Some takeaway refreshments at the Celtic Ross and a stroll around the picturesque Rosscarbery completed our wonderful Sunday outing.