This Greenway is an easy 14km cycle from Tralee to beautiful Fenit. We stretched it out by adding a worthwhile little jaunt at the Fenit end.
Finding the start of the Greenway in Tralee town was a bit of an ordeal. Kerry County Council certainly needs to work on signage. Luckily, someone had told us that it was beside the train station, which it is. That also makes it very attractive as a fully green cycling destination – train and then cycle. So, having finally found the starting point at the Tralee side, off we went on a gloriously well surfaced track. There are a few crossings and stepped gates along the way, more numerous of course at either end. However, they were easy to navigate and would not pose a difficulty to any kind of bike.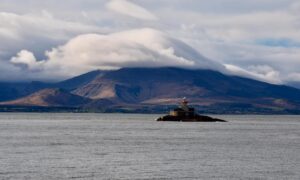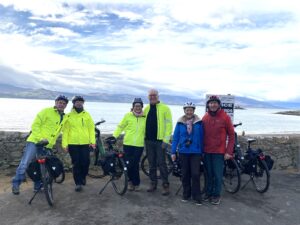 As we got close to the coast, the views were splendid. Views across Tralee Bay to the mountains on the Dingle Peninsula were spectacular. Fenit itself was charming and while cafés were in short supply for our winter visit, it looked like some additions to the culinary offering were under construction. A visit to the end of the pier to the impressive bronze sculpture of Saint Brendan the Navigator is a must. He certainly is master of all he surveys.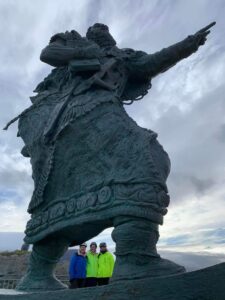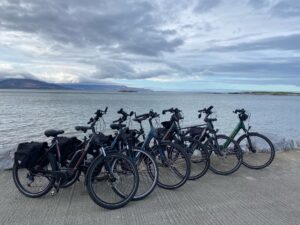 So now to the hidden surprise! We travelled out the R558 (main Tralee road) for less than a kilometer and took a left turn opposite McCarthy's Gala shop. That brought us down to a beautiful beach and a most interesting tombolo. With the tide out, we were able to cycle across the hard sand at the back of the beach (the landward side) and reach Fenit Island. You can't travel far on that island – the road is pitted and challenging – but it was just lovely to be out there.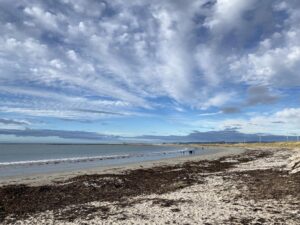 As is usual for former rail routes, the Greenway is fairly flat; slightly uphill for parts of the return journey. One of our group had forgotten the controller for his Kreidler electric bike, leaving him without power. With the occasional helping push on the back as we returned home, he didn't miss his electrics at all. It's an easy and very pleasurable cycle. The new Tralee to Fenit Greenway, plus the option of another lovely cycle and walkway from the town out past Blennerville Windmill, now makes Tralee a good cycling destination.