Ballyferriter (Baile an Fheirtéaraigh) is a great place to stay if you want to cycle the Slea Head area of the Dingle Peninsula. We stayed in the Ceann Sibéal Hotel, which was lovely. On the first afternoon, we turned west along the R559 for a very short while and then turned onto the little road that brings you out towards Dún and Óir. Under the watchful eyes of The Three Sisters, we explored around Ferriter's Cove and the west side of Smerwick Harbour. We then came back onto the R559, cycled through Ballyferriter again and out the other side towards Murreagh (An Mhuiríoch), taking in Wine Strand along the way.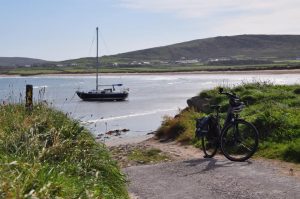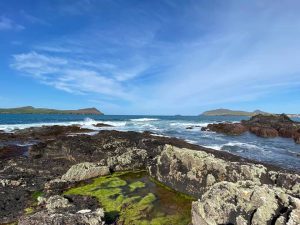 The cycle along the eastern shores of Smerwich Harbour towards Ballynaghall (Baile na nGall) was easy going and so scenic, and we were delighted to take a break and sit outside Tigh T.P. for some lunch, overlooking the gorgeous Ballydavid beach. We kept going northwards along a small road towards Brandon Mountain before we turned back for Ballyferriter. That evening before dinner we took a quick hop over to Clogher Strand to capture the sunset over the magestic Sleeping Giant, Inis Tuaisceart, one of the Blasket Islands.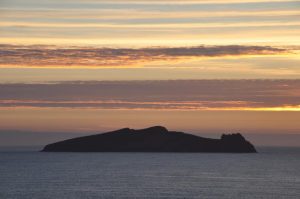 Day 2: The next day dawned with a heavy mist but, not to be deterred, we donned our wet gear and cycled a kilometre or so from Ballyferriter in the direction of Dingle. We then took a right turn onto a small road which brought us quickly over to the south side of the peninsula at Ceann Trá, Ventry. We knew it would be tough going up that road with the southerly wind and rain against us, but we trusted our electric bikes to take the pain out of it, and they did. We were rewarded with slightly drier weather on that side, for a little while at least. On days like this, once you're geared up and prepared to get a little wet, it's actually quite exhilarating!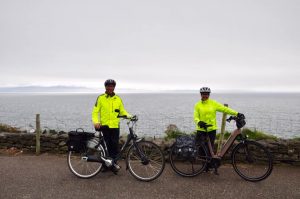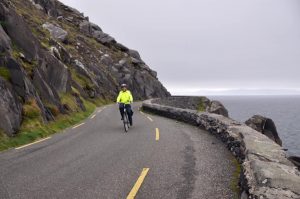 There's a lovely little cafe called Caifé Na Trá, with normally magnificent views, just south of Coumeenoole Beach. We were very impressed by one pink-coated lady who sat stoically outside with her cup of coffee. Being of the more tender variety, we needed a bit of a break from the heavy mist at that stage!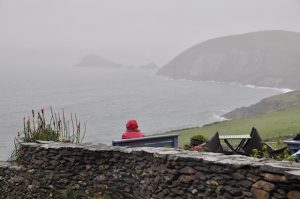 As we cycled the last 10km or so back towards our hotel, we marvelled at the famous Dún Chaoin Pier and also had to check out the fabulous new viewing point at the Blasket Centre, recommended to us by a well-travelled electric bike explorer. We had to imagine what these scenes could look like on a clear, sunny day, but the misty magic on the day made for beautiful memories also.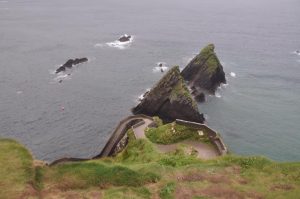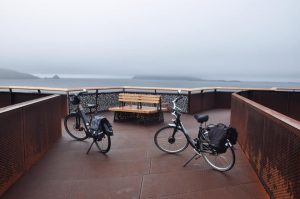 You could literally spent weeks, months or years cycling the Dingle Peninsula in its entirety, but we hope we have inspired you to make a start on it. Happy e-biking!